Tar and Chip Surfacing Southern England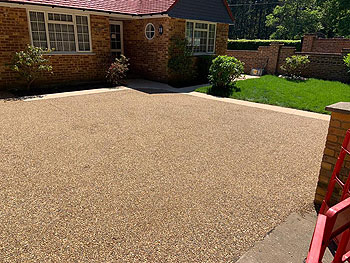 SL Tar and Chip Surfacing is a trusted Southern England Tarmac Contractor, Block Paving & Resin surfacing company for homeowners, businesses & local authorities, working across the South & South East of England for over 25 years. We provide expert, guaranteed road surfacing and paving services, including pothole repair or even a simple resurfacing job.

We specialize in tar and chip driveways, offering a wide range of services including installation, resurfacing, and repair of existing chip driveways, all of which are guaranteed to last for over 25 years in the East of England. Our experienced team of professionals can provide pothole repair and other road surfacing and paving services to ensure that your chip driveway is safe and attractive, and driveway resurfacing work in Southern England and beyond.
Whether you need driveway maintenance, surfacing, pothole repairs, block paving, road surfacing, or resurfacing of carparks, forecourts, and driveways, as both an established paving contractor and tarmac surfacing company across the South & South East of England, we are your number one choice.
Our engineers are on call 24 hours a day, 7 days a week to provide a full service. Whether you are getting emergency work carried out, sprucing up your driveway, or simply if you just need to ask for some advice, we are here to help.
Tar and Chip Surfacing Surrey & Kent areas
Tar and chip surfacing is a long-lasting solution that can last up to 10 years with proper maintenance. It is a low-maintenance option that requires only occasional sweeping and patching. Tar and chip surfacing is a great option for areas with heavy traffic, as it is able to withstand the wear and tear of vehicles. Tar and chip surfacing is a popular choice for rural roads due to its ability to handle heavy traffic and its resistance to weathering.
DRIVEWAY SURFACING
No matter what kind of driveway surface you need, our range of domestic driveways includes tarmac/asphalt, tar and chippings, gravel, block paving, and resin-bound surfaces. All done using the correct amount of levels with necessary drainage. Our customers can trust our application process and the results speak for themselves.
POTHOLE REPAIRS
Our pothole repair service is available across Southern England 24/7. All of your pothole repairs and professional applications in Southern England can be handled by our rapid surfacing response team. Our experienced rapid surfacing response team has the expertise to quickly and efficiently handle all of your pothole repairs and professional applications in Southern England, providing you with a hassle-free experience.
TARMAC SURFACING
We provide a wide range of tarmac surfacing in Southern England, from re-surfacing & line marking to potholes & driveways. Call us for all your London surfacing needs. The costs of our London surfacing services vary depending on the size and scope of the project, but we strive to provide competitive and affordable rates for all our clients, from re-surfacing and line marking to potholes and driveways in Southern England.
Call Us Today For Surfacing in Southern England
Southern England Home Surfacing Contractor offers the following:
Road Surfacing
Pothole Repairs
Car Park
Surfacing
Playground Surfacing
Tarmac Driveways
Block Paving
Resin Driveways
Gravel Driveways
Once the paving contractors in Southern England have completed the installation of the home resin paving, tarmac driveways, block paving driveways, and tar and chip surfacing, they will finish the job with a professional touch.

Property owners looking to improve the look and value of their property should consider investing in tarmac driveways, block paving driveways, and tar and chip surfacing, as these options will not only enhance the aesthetic appeal of the property, but also provide a durable and long-lasting solution for the property.
Driveway, Road Surfacing & Paving Contractors in Southern England